Aftercare For Artificial Grass
How to care for your new lawn: low maintenance made easy
After you've had your beautiful new lawn installed, it is necessary to carry out some regular light maintenance in order to keep the 10-year warranty valid.
This easy and low maintenance program is always recommended to ensure maximum life expectancy of your Gorilla Grass and keep it looking brand-new.
As an outdoor product open to the elements, there is inevitably some periodic light work you should carry out which we recommend between every four to six weeks. Contact one of our team to if you have any questions, or to discuss a maintenance contract which would best suit your lawn!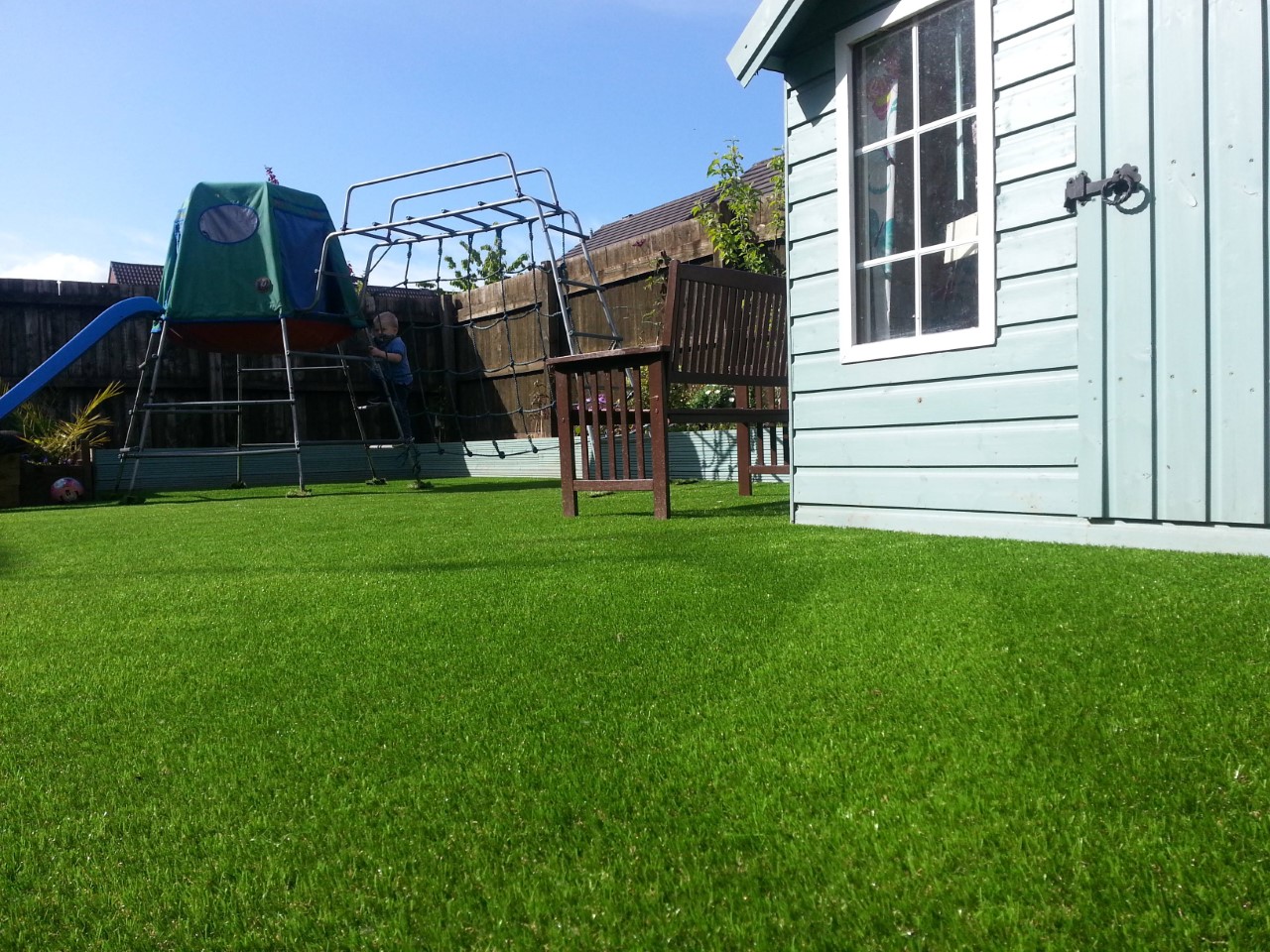 To keep your lawn looking fresh, simply follow these few simple steps:
Step One: Regularly remove debris and leaves
Just like real grass, the best way to keep it looking fresh and groomed is by removing leaf litter, twigs and debris using a petrol leaf blower (for best results), stiff brush, or a plastic rake. Additionally, to limit the amount of leaves falling onto the grass, regularly trim back hedges and overhanging trees. Despite the durability of our artificial grass, we do not recommend using a metal rake or any sharp objects may damage the lawn.
Step Two: Remove pet waste and stains
To eradicate pet urine odours and mess, use our specialist cleaner. View our products page for more information. If there is no transfer of dirt/soil, artificial grass is pretty much self-cleaning. However, if you need to remove a stain or smell, washing or hosing down the grass with warm water and a light detergent, then using stiff brush should do the trick.
Step Three: Brushing
To avoid settling or flattening of the artificial grass blades (especially in high foot fall areas), and to keep your new lawn looking tip top, it is necessary to lightly brush the grass around once per month to maintain the pile height and the consistent shape of the individual blades. We highly recommend a specialised mechanical brush for best results.
Step Four: Apply weed killer
As fake grass is susceptible to airborne seeds, regular maintenance in the form of a weed killer just twice a year to the whole area is paramount. If any weeds or moss grow, these are easily removed by hand or stiff brush.
Step Five: Avoid mirrors, reflective surfaces, fires and BBQs
Please be aware that outdoor mirrors or mirrored walls can have an adverse effect on our synthetic grass, and therefore, are not recommended to be used in any project where Gorilla Grass is laid. Additionally, we do not recommend any fires or BBQs to be used on top of, or very near to, our artificial grass as any damage such as burning caused by such items will not be covered by warranty. We recommend putting your BBQ on a patio or decking area instead.
If you have any further questions, check our FAQ page, call 08009996665 or email us via gorillagrass@gmail.com