Pet Friendly Artificial Grass
Grass designed for pets
So many of our customers have adored pets in their homes. Therefore, we provide our artificial turf for pets which uses safe, non-toxic grass. You can install our pet friendly Gorilla Grass in a variety of indoor and outdoor locations for both residential and commercial properties. Check out our recent blogs to see why Gorilla Grass is the perfect solution for you! Please note that you must clean the grass regularly if you have animals and it is not recommended that this should be used as a toilet, if animals do go to toilet here you must clean straight away. Please see our blog where we will inform you how to clean and look after the grass.
PLEASE NOTE: Artificial grass needs to be regularly cleaned and immediately cleared of any urine / feces that appears on the grass. Any build-up of smell can be caused once the grass is not looked after properly. The grass is NOT recommended to be used as a toilet for animals.
Please ask for alternative products to see what we can do to help with keeping your garden clean.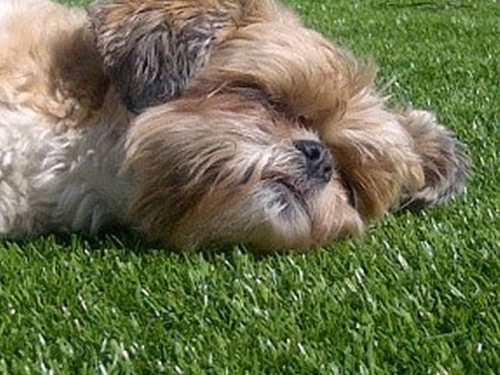 Drain-away backing
Our grass has a thick rubber base which is pre-punched to allow efficient drainage. This strategic design eliminates slow drainage and prevents the accumulation of waste, therefore facilitating a cleaner environment for your beloved pets. Debris including hair, faeces, and urine will not be trapped in our grass!
Lasting durability
Gorilla Grass is a durable product with longevity and is constructed with quality premium materials, meaning dogs and cats will be prevented from digging up and chewing on chunks of rubber from your newly installed lawn! Our highly trained specialists will install your grass using the best determined method for your space, whether it be outdoors or indoors.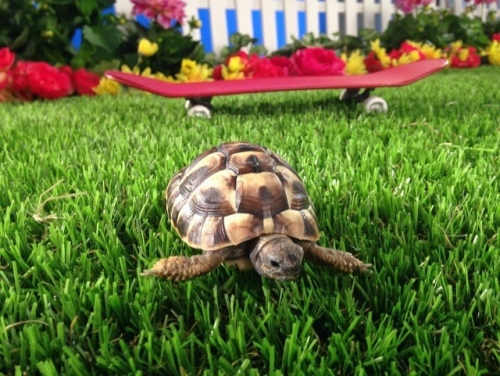 Easy to clean
It is very important that you keep your artificial grass clean and free from bacteria. We recommend that you contact us for any questions and look out for our new cleaning products shortly!
If you have any questions, or need some honest advice, check out our FAQ section, or alternatively you can contact us.
Check out our recent work on our social media sites and keep up to date with our up and coming projects in your area!